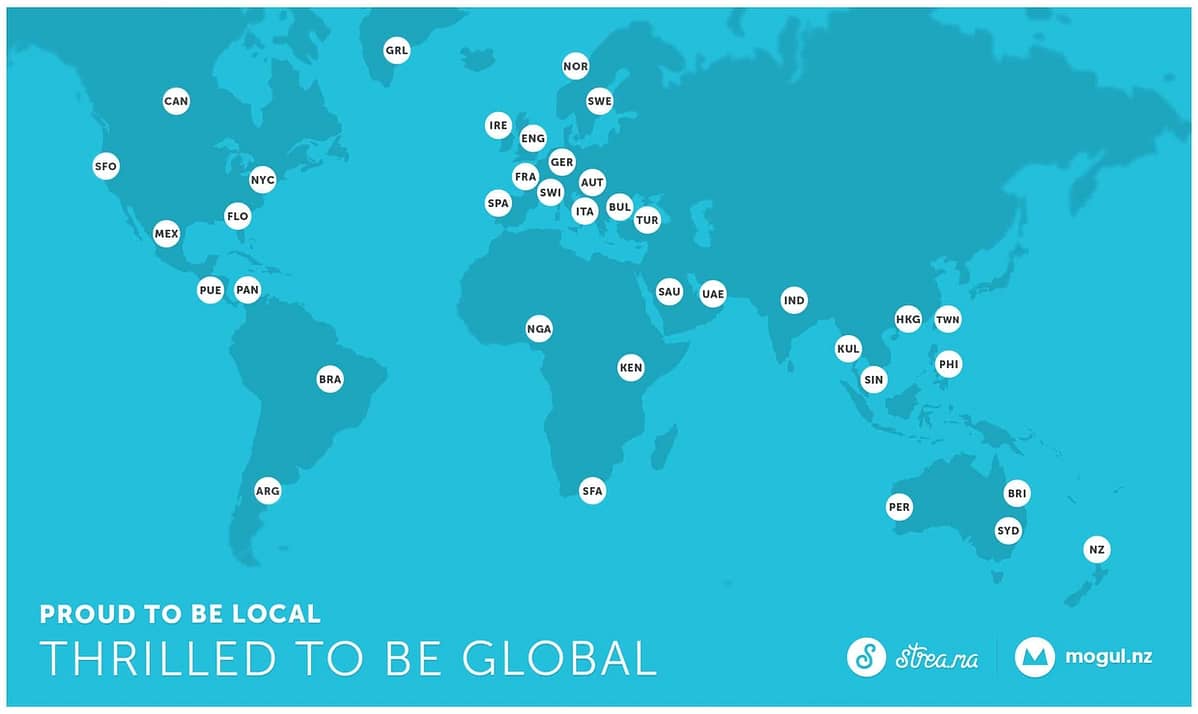 When we founded Mogul in 2007, I never expected we would export over 40% of our business…
But back in 2014 I went to Xerocon, Auckland, and Rod Drury laid down a challenge to all small businesses – "set a goal to export 30% of your business offshore" – you can read more about that conference here.
I came home quite excited about the idea of being a 'legit' exporter of services that was truly contributing to our local economy. At the time we had a few Xero Partners in the U.S.and Australia, and an aviation training company in Kenya, but we were nowhere near 15% let alone 30%!
So we started to think bigger and we looked across the ditch at who we knew or could get access to. Within a few months we had leveraged the relationships we had with the Xero Account Managers, and presented our offerings to the team in Sydney.
We must have done something right because soon after that meeting we had a whole lot more Australian customers – plus we now featured in the Xero directory. In hindsight this listing has been a little goldmine for Mogul, it has sent us some of our best customers because they saw us there, checked us out, loved our work and got in touch.
We had launched Strea.ma late in 2013 to the New Zealand market, and by March 2014 we had our first international customer, the Norwegian marine electronics company Navico – https://navico.com/ . There's been no looking back for Strea.ma, with a global client base of 95% including the Middle East, South America, Europe, Canada, and even Greenland!
Now three years after Rod's challenge we are exporting over 40% of our business offshore. We are actually legit exporters!
The real surprise is just how easy it is. Modern day technology means that for our industry, you just don't need to have face-to-face meetings. Apps like Zoom, Google Drive, Dropbox and Invision have changed the way we work in a global environment – definitely for the better.
The global market continues to be a real growth focus for both Mogul and Strea.ma. We are staunchly proud to live in Hawke's Bay, but we are absolutely thrilled to deliver our work globally.
Here are a few of our global clients:
North America (San Francisco, Indiana, New York, Los Angeles):
Property Matrix – https://mogul.nz/work/property-matrix/
Bookkeeper360 – https://www.bookkeeper360.com/
Beyond Balanced Books – https://mogul.nz/2016/06/beyond-balanced-books-has-a-new-look/
Gineris (project is currently underway) 
Digital Waybill (project is currently underway) 
Rayner CPA (project is currently underway) 
UK (England):
Atkinsons – https://mogul.nz/2015/10/design-work-for-atkinsons-consulting/
South East Asia (Malaysia and Singapore):
eXtracc – https://mogul.nz/2016/02/a-website-evolution-for-extraac/
Agere – https://mogul.nz/2015/12/agere/
SmartTax – https://www.smarttax.com.my/
Eazipayroll (project is currently underway)
Australia (Sydney, Adelaide, Melbourne, Brisbane):
AT Accountants – https://mogul.nz/2015/03/new-website-at-accountants/
Accomplice – https://mogul.nz/2015/03/new-website-at-accountants/
Matrix on Board – https://mogul.nz/2014/09/new-websites-matrix-on-board/
Judge Accountants – https://judgeaccountants.com.au/