Google's mobile-first indexing is now officially a thing
One of the rapidly evolving online areas is how people search for information. More people than ever are searching from mobile devices and Google is changing their algorithms to accommodate them, in particular with mobile-first indexing. You might have heard about it. After months of announcements from Google, we can confirm that mobile-first indexing is happening now and it's here to stay.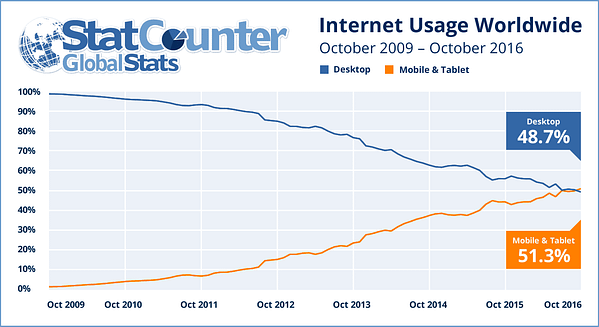 Search engines now favour mobile-friendly content
Search engines are favouring content from mobile-friendly sites and this will negatively affect how your information is positioned on search results if your website is not performing well on mobile devices. Competitors with mobile content are going to attract more clicks and this will result in a decrease in your regular organic search traffic. Your bottom line will be impacted and your website performance will be diluted as fewer searchers will find your company. (Read Matt's post, 'Is Google Sending You Enough Web Traffic?', about what happens if you're not on the first page of Google)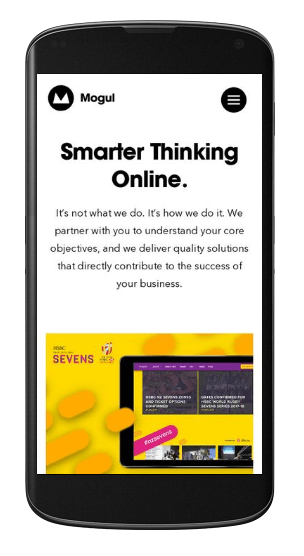 Image source: Google's mobile-friendly test (https://search.google.com/test/mobile-friendly)
What is mobile-first indexing?
Mobile-first indexing simply means that Googlebot (this is what visits or crawls your site to find information for people) will be favouring the mobile version of your site for indexing and ranking. Google historically used to crawl, index and rank based on desktop website versions but this was an issue for mobile searchers when a desktop and mobile site differed.
Due to the continued growth in mobile use, Google is pushing web developers to change sites to improved mobile-focused versions. They started favouring mobile-friendly sites over other sites in early 2015 and by 2017 the changes were implemented. In March this year Google announced that sites were officially being migrated and although they'll continue to have one single index  (not a separate 'mobile-first index' as was previously suggested) they'll be increasingly considering mobile versions of content.  Getting to the top of search pages involves many variables. Google says they may still favour relevant content, despite it being slow to load or not mobile-friendly, where the information is the best match to the user. This highlights the importance of helpful and highly relevant content on each page. We can do all the right SEO tasks but if your landing pages don't provide a great experience to your visitors then Google is going to let a competitor rank in front of you.
After months of Google's announcements, experiments and tests, Google Search Console notified us this week that some of our sites have now been moved over to Google's mobile-first indexing.
Image source: Google
Kiwis use mobile search engines before buying
Studies show that over half of all web visitors globally are coming from mobile devices (Source: Stone Temple Consulting) and it's clear that that will continue growing. So, if you helped get the terms 'Lotto result NZ', 'fidget spinner' or 'All Blacks vs Lions' trending on Google NZ in 2017, the data tells us you were most likely searching for that on your phone.
Our July set of data here at Mogul confirms the value of being found on mobile search results. Across a large number of our clients' sites, we saw a range of 38% to 73% of all new visitors coming from mobile, and 36% to 74% of  organic search users coming from mobile including tablets. Although most of our clients' sites still have a higher conversion rate from desktop users, mobile traffic is not far behind (a conversion can be a form submission, email newsletter signup, a purchase, etc.)
If you can't be found, you're as good as dead
People have become intolerant of a bad mobile web experience. Smart Insights reported last year that,  "those who have a negative mobile user experience are 60% less inclined to revisit and buy from that brand in future."
Users migrating from desktop to mobile is not a new trend but with Google prioritising the mobile experience over desktop, it's now vital to check that both people and search engines can access your mobile information.
Expect data changes
If your site has been moved over to mobile-first indexing recently then you may notice more visits from a 'Googlebot Smartphone' in your Google Analytics website traffic report. You'll also notice that the bits of text included in your search result listings (snippets) will be generated from your mobile site version and no longer from your desktop site version.
Include mobile in your online thinking
At Mogul we include mobile insights into all of our digital marketing and responsive web development design projects.
As mobile devices have become the first port of call for search engines, as well as a growing number of users, mobile SEO considerations are necessary to succeed. If your website is not mobile-friendly, it's time to change that. As your competitors become more mobile savvy and their content becomes more relevant than yours, your site is destined to become invisible to the people you're trying to reach.
Image: From Moz.com. A search keyword that has dropped 6 places in a month and is losing clicks from falling out of its position at number 1.
Stay informed
If you're planning a new website then you need to factor in responsive design and mobile SEO. If you have an existing site then we recommend that you find out how well it's performing on mobile, and what the search engines can (or can't) access, so you don't drop off the search results over time. Our team can add you to our monthly newsletter if you'd like to know about more online changes like these that affect your business.
Test your site for mobile-friendly performance
A good place to start is this quick mobile-friendly test from Google, simply enter your site URL into the tool to see how it's performing for mobile users.
If you're curious to know how people and search engines see your site or if you've noticed that you're not featuring on search result pages, get in touch for a chat.